Anuari Ornitològic de les Balears

volum 25 (2010)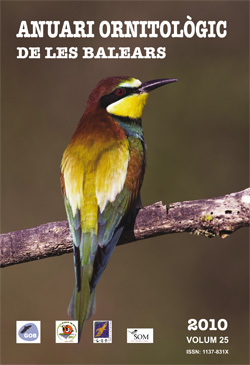 ÍNDEX



Articles
Tavecchia, G. De la población al individuo… y viceversa.
From population to individual… and vice versa.
Adrover, J. Estat de conservació de la població d'abellerol Merops apiaster a Mallorca.
Conservation status of the Bee-eater Merops apiaster in Mallorca.
Garcias, P. Revisió de l'estatus del formiguer Jynx torquilla a Mallorca.
Revision of the status of Eurasian wryneck Jynx torquilla in Mallorca.
Notes breus
Sebastià, C. i Vicens, P. Nova colònia de cria d'esplugabous Bubulcus ibis a les Illes Balears.
New breeding colony of cattle egret Bubulcus ibis in the Balearic Islands.
Sebastià, C. i Vicens, P. Primera cita de cria de falzia pàl·lida Apus pallidus dins d'un nucli urbà a les Illes Balears.
First breeding record of pallid swift Apus pallidus in an urban centre on the Balearic Islands.
Llabrés, X. Cria possible de pinsà trompeter Bucanetes githagineus a Mallorca.
Possible breeding of Trumpeter finch Bucanetes githagineus in Mallorca.
Ventoso, L. i Muntaner, J. Important hivernada i migració prenupcial d'Aligot Buteo buteo a Mallorca, 2010-2011.
Important common buzzard Buteo buteo wintering and prenuptial migration in Mallorca, 2010–2011.
Adrover, J.; Martínez, O.; Cardona, E. i Méndez, X. Recompte hivernal d'aus aquàtiques i limícoles a les Balears, gener 2011.
Winter census of Wildfowl and Shorebirds in the Balearic Islands, January 2011.
Altres

Homologació de rareses ornitològiques a Balears. Informe de 2010.
Accepted records of bird rarities in the Balearics. Report for 2010.

Registres ornitològics 2010.
Ornithological highlights of 2010.

Activitats Ornitològiques durant 2010.
Report of bird during 2010.

Ressenyes bibliogràfiques.
Books reviews.

Annex I: Resum meteorològic.
Meteorological summary.

Annex II: Estatus de l'avifauna balear.
Status of the Balearic birdlife.

Annex III: Llista de rareses.
List of rarities.

Índex de gèneres, espècies, subespècies i noms comuns de la llista sistemática i rareses
Index of genera, especies, subspecies and common names used in the systematic list and list of rarities